The Deputy Vice-Chancellor Mrs. Anny Katabaazi Bwengye has said that the university policy to embrace e-learning enabled them to keep afloat during the COVID-19 period when most universities had closed.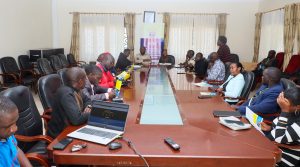 Speaking this afternoon to a group of ICT lecturers and managers from NTCs who were benchmarking at the KAB E-learning center, Ms. Katabaazi noted that KAB was one of the few public universities that continued to teach, examine, and graduate students during the COVID-19 period.
"We do not have a lot of backlogs owing to e-learning, for we used what we had to ensure our students finished on time", she said. She further noted that most of the students had graduated while other universities continued to struggle with backlogs.
Ms. Katabaazi noted that KAB was working hard to achieve the NHCE requirement of sharing with NTCs, Colleges, and schools who would want to come and benchmark with her. She also noted that through partnerships with RUFORUM and the C-CODE project, KAB continues to progress in e-learning.
The team leader, Mr. Robert Kisalama, the Sector Expert – Institutional Development at the Ministry of Education and Sports, said that the NTCs have decided to benchmark with KAB because it is a productive university that has scored high in rankings both in research and visibility adding that KAB is one of the leading universities in Uganda in terms of e-learning.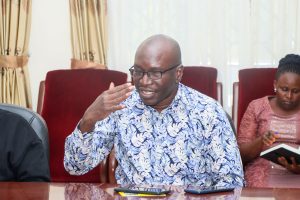 He further said that the Ministry intends to improve secondary teacher training to enable teachers gain practical skills in ICTs because they are models for the students they teach.
"We are here because we need our institutions to understand what it means to run an e-learning unit, to create content and to sustain good internet connection", he added.
Mr. Kisalama further said that ICT managers and lecturers needed to understand how to use the ICT infrastructure and then be able to guide their students. He implored lecturers to be able to learn how to create content and also be able to facilitate it online.
A 13-member team from NTCs in Uganda was at the KAB to compare practices and processes in the E-learning center and thereby inform their strategy.